Noriega Wins Rosenfield Distinguished Community Partnership Prize for 2004-05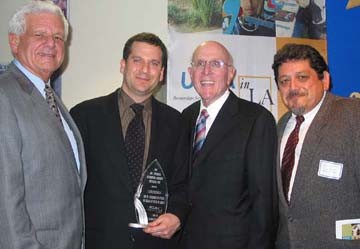 (L-R) UCLA Chancellor Albert Carnesale, CSRC Director Chon A. Noriega, Self-Help Graphics Director Tomas Benitez
The Ann C. Rosenfield Community Partnership Prize was presented to Chon A. Noriega by UCLA Chancellor Albert Carnesale at a reception hosted by the UCLA Center for Community Partnerships on Thursday, January 27, 2005, 3:30 - 5:00 p.m.
Remarks by Chancellor Carnesale:
Chon A. Noriega has won this award in recognition of his significant and ongoing contributions to Chicano and Latino scholarship in a variety of artistic media and for his leadership of partnerships with Self-Help Graphics and Art (SHG) and other art organizations, including LACMA. As director of the CSRC, Noriega established a community partnership with SHG through the "UCLA in LA" initiative established by the Office of the Chancellor.  Now in its second year, the CSRC–SHG partnership provides a model for university of community collaboration. However, the work and leadership provided by Noriega goes well beyond one partnership; he has established a broad array of initiatives undertaken to nurture Chicano/Latino arts and to create an informed, substantive, and ongoing partnership between the university and community-based groups in the arts.
In October 2004, LACMA announced a new step toward creating a greater understanding of Chicano and Latino arts and cultures for the people of Los Angeles and visitors to the area. LACMA joined with Dr. Noriega and the CSRC to launch a new partnership, the Latino Arts Initiative, a five-year plan that includes the development of exhibitions, new collections, publications, educational activities, research projects and community relations--all focusing on Chicano-Latino art in all of today's media. This arrangement will capitalize on the strengths of both institutions to enhance the quality of life for residents and visitors to California alike. LACMA will bring its own expertise to the Latino Arts Initiative but the key to this endeavor will be the participation of the CSRC, which has become a leader in the development of scholarly research and community partnerships in Chicano-Latino art and culture.
It is his overall record in supporting the arts that distinguishes Professor Noriega and makes him an ideal recipient of the Ann C. Rosenfield Distinguished Community Partnership Prize.